Where To Apply Highlighter For A Gorgeous Glow
When the highlighting and contouring craze first entered our collective universe a few years ago, it caught on like wildfire for one obvious, glaring reason: it could give us a gorgeous glow. Sure, a strong jawline and brow bone will help define your face, but making cheekbones or other facial features the focal point provides the ultimate natural face-lift. As far as beauty trends go, applying highlighter to enhance your face is a far easier makeup trick than, say, overdrawing your lips with a liner or contouring your nose.
Whether you already possess sky-high cheekbones or need a little extra makeup magic to bring out their beauty, highlighter is a life-changing product that will illuminate specific areas of your face and give you a glow-from-within radiance. There is more than one way to apply highlighter to your face. Add it to your nose or cheekbones, just to name a few, to illuminate your complexion. The method you choose has everything to do with how much time you have to devote to your makeup and how many products you feel like using that day.
Liquid and powder highlighters have come a long way in recent years and many are able to deliver a glow-from-within radiance that won't make you look like a disco ball. They're so popular that many makeup artists and beauty Vloggers consider them as fundamental to their overall makeup look as foundation or mascara.
The trick to using highlighters correctly involves figuring out which formula and shade works best for your skin type—and knowing exactly where to apply them to maximize your natural glow. There are a number of areas and ways you can highlight your face.
How to apply highlighter to your face:
How to apply highlighter to your face: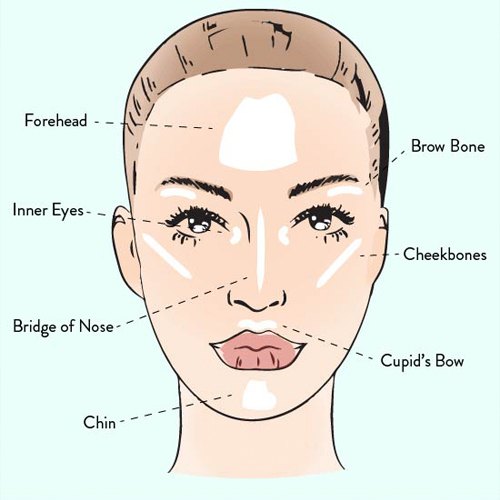 Follow these simple tips for the best way to apply highlighter to enhance your look and give yourself an instant highlighted face-lift. You'll be on your way to the sharp cheekbones of your dreams and a radiant glow in no time!
Method 1: Full Face Highlighting With Foundation And Powder
If your goal is to create full-coverage makeup with highlighted cheekbones that define your face, start by cleansing your skin, applying moisturizer, and then applying a layer of primer to prep your skin for makeup. Now comes the fun part: instead of relying on just one shade of foundation that matches your skin, play with two different shades: one that's a shade lighter than your skin and one that's a shade darker than your natural skin tone. Apply the darker foundation shade the way you would contour powder—along your jawline and temples, below your cheekbones, and (if you want) along the sides of your nose. As you probably guessed, the lighter foundation will be used to highlight the center of your forehead, your cheekbones, and chin.
Blend like your life depends on it—your makeup should not have harsh lines.
Lastly, finish up with a dusting of translucent powder to set your makeup.
Method Two: Highlight With Blush
You're probably used to reading that you should apply blush to the "apples" of your cheeks, only to find it impossible to find these mysterious apples. A better way to apply blush is to consider your face shape and honor it. Here are a few good tips on how to apply blush to your face shape:
—Square face: Apply blush slightly below your cheekbones
—Round face: Sweep a matte blush from the ear down the cheekbone towards the mouth.
—Long face: Apply blush below the outer corners of the eyes and make sure it doesn't extend lower than the tip of your nose.
—Heart-shaped face: Apply blush to the outer corner of your cheekbone, starting by your ear and ending at a point below the outer corner of the eye.
—Oval face: Place blush on the tops of cheekbones.
Method Three: Apply Highlighter With A Damp Sponge
There are several highlighter types that you can use and all have pros and cons. But if you're looking to add a serious glow to your face, your application method matters. Dampen a makeup sponge or brush in water or setting spray and dip it into a creamy or cushion highlighter. Then sweep the highlighter along your cheekbones, nose, temples, or forehead, making sure it extends to your hairline. This will ensure your glow looks as amazing in profile as it does from the front.
For more ways to highlight specific areas of your face, keep reading.
1) Highlight Your Cheeks
Our cheekbones are the first facial feature most of us think about highlighting when we get our hands on a highlighter compact or liquid highlighter. After applying undereye concealer and foundation or BB cream to your skin (assuming you choose to use these products), blend carefully using a makeup sponge or brush. Applying bronzer beneath your cheekbones and highlighter on top is a quick way to contour your face for even more cheek definition, but if you're short on time, highlighting the right area of your cheeks adds enough punch.
Using a kabuki brush or a blush brush, sweep a layer of powder highlighter in a downward motion starting from your temples and ending at around the middle of your cheekbones. Survey your makeup in the mirror to determine whether you need to add more highlight or blend your makeup into your skin for a more subtle result.
2) Highlight Your Nose
The right placement of highlighter can actually make your nose look thinner and more refined. Using your ring finger, apply just a dot of highlighter to the center "bulb" of your nose and blend it upward along the bridge. This is one area where a little product goes a long way.
3) Highlight Your Lips
Get fuller-looking lips without injections by applying a dab of highlighter to your cupid's bow. As with your nose, using a light hand is crucial to making a highlighted lip look natural.
4) Highlight Your Eyes
Brighten your eyes and fake eight hours of sleep in just seconds by using a creamy highlighter pen or soft powder in two key spots: along your brow bone and the inner corner of your eye. After applying eyeshadow, liner, mascara, and brow makeup, consider highlighter your finishing eye makeup touch. Using a finger or small eyeshadow brush, sweep a layer of highlighter along the middle to outer brow bone only (this will look more natural than covering your entire brow bone). A hint of highlighter in the inner corner of your eye will instantly perk up your entire face.
5) Highlight Your Forehead And Chin
The best way to highlight your forehead and chin is by doing to one exactly what you'll do to the other. To achieve more symmetry in your face, brush a very small amount of highlighter straight down the middle of your forehead and try to replicate this exact line down the center of your chin. Too much highlighter in these areas can create a sweaty look so be light-handed. Just a little will make you look like you spent a week in the south of France.
To create a highlighted look, try using these products.
Stila Heaven's Hue Highlighter ($32)
It's a good idea to keep two types of highlighters on hand that will suit your different moods and the time of day. For a bolder look that makes you stand out in a crowd, this shimmering highlighter contains ultra-fine light-diffusing particles that give you an ethereal glow. The texture of this highlighter is a soft powder, but it transforms on your skin and becomes creamy and highly absorbent.
It also comes in three gorgeous shades: Kitten (shown here) is a shimmering nude pink, Transcendence is an opalescent pink, and Bronze gives you a sun-kissed glow.
Yves Saint Laurent Touche Eclat Radiant Touch Concealer ($38)
If you want to add a subtle and luminous glow to your face without obvious shimmer and glimmer, a concealer and highlighter pen like this one is hydrating, illuminating, and comes in a portable package that fits right in your purse. It's also a multitasking wonder that can be used to brighten and lighten dark circles under your eyes.
For more beauty tips, check out these life-changing eye makeup tricks that everyone should know, on SHEfinds.
[Photos: Shutterstock]
SheFinds receives commissions for purchases made through the links in this post.Subscribe to our newsletter for daily updates from SheFinds.
Source :
https://www.shefinds.com/where-to-apply-highlighter/